Biography
Ute Behrend is a German artist, publisher, lecturer and editor, based in Cologne, Germany. She is co-founder of BUMMBUMM BOOKS and member of the German Photography Academy (DFA) and the DGPH.
Behrend's photographs and video installations have been exhibited internationally, and are included in many public collections. After studying Photography, she published her first Book "Girls some Boys and Other Cookies", with Scalo Publishers 1996 in Zürich.
Five monographs of Ute Behrend have been published so far.
Her last book "Bärenmädchen / Bear Girls" was published in 2019. It was shown in Israel, Spain, Lithuania, Germany, Greek, Switzerland and the Netherlands and received numerous honorable mentions, as well as the Julia Margaret Cameron Award and the German Photo Book Prize.
Her latest work "Back to Nature" was nominated for the Merck Prize in 2020.
In 2021 this work was shown as one of 6 solo exhibitions at the Copenhagen Photofestival.
Ute Behrend lives and works in Cologne.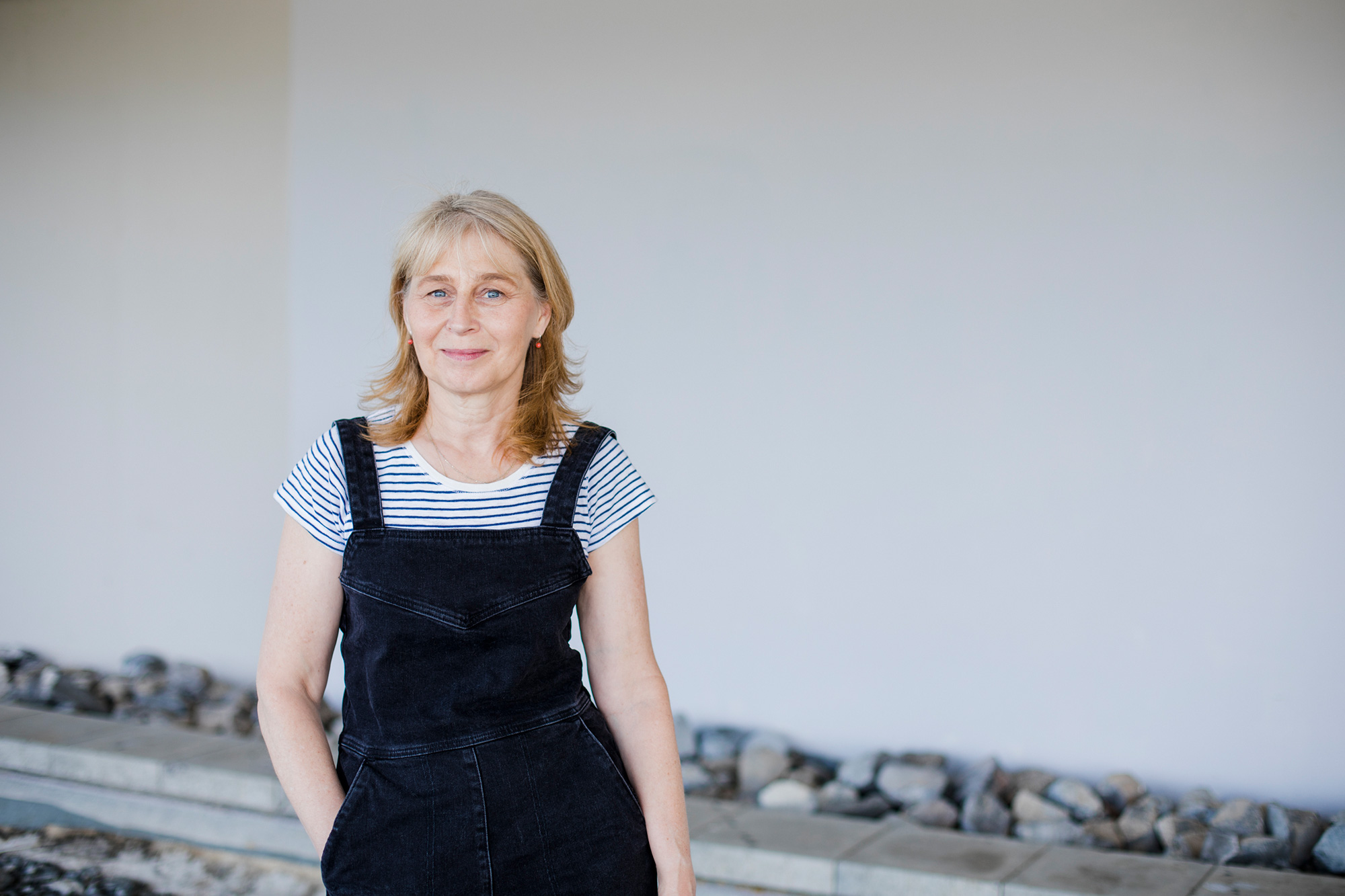 | | |
| --- | --- |
| | Scholarships and Awards (Selected) |
| 2022 | 8th International Marianne Brandt Award (Short List) |
| | Krappy Kamera Competition 2022, 2nd place, Ahl Säu, Soho Photo Gallery, New York |
| | Athens Photo Festival 2022, Shortlist |
| | Stiftung Kunstfonds Sponsorship, Cowboys/Work in Progress |
| 2021 | Scholarship for research from the city of Cologne (D) |
| | Sink or Swim! Photography Contest, The Curator Ship, Winner |
| 2020 | 8. Merck Preis, Nominated (D), "Back to Nature" |
| | Verzasca Foto Festival Award, Finalist (CHE) |
| 2019 | 14th Julia Margaret Cameron Award, open theme, Professional Section, Winner (ESP) |
| | The Emerging Photographer Fund, Shortlist (USA) |
| | Felix Schoeller Photo Award, Portrait, Shortlist (D) |
| | Art Photography Award / Lens Culture, Finalist (NL) |
| | Hellerau Photography Award, Nominated (D) |
| | Deutscher Fotobuchpreis, Bronze (D) |
| | Helsinki Photo Festival, Award, Finalist (FI) |
| 2014 | Espy Photography Award, Shortlist (GB) |
| 2012 | Kolga Award, Shortlist (GEO) |
| 2011 | Künstlerhaus Lukas, Ahrenshoop, Residence Scholarship (D) |
| 2009 | Dr. Dormagen – Guffanti Foundation Award, (D) |
| | Welde Art Award, Finalist (D) |
| 2008 | German Photobook Award 2009, Zimmerpflanzen, Shortlist |
| 2007 | Foundation Kunstfonds sponsorship | Book project "Zimmerpflanzen" |
| 2004 | Toyota Photo Art Prize (D) |
| 2002 | European award for women photographers, Florence (I) |
| 2001 | Scholarship of the State of North-Rhine-Westphalia without change of residence |
| 2000 | Commendation, DGPH Otto Steinert Award (D) |
| 1997 | Promotional Booth/Förderkoje, Art Cologne |
| 1990 | DAAD-Scholarship |
| | |
| --- | --- |
| | SOLO EXHIBITIONS (selected) |
| 2023 | Cowboys and Gods in the Garden, (with Allison Plass), Kunstraum ELSA, Bielefeld |
| 2021 | Double Dialogues, Museum für Photographie Braunschweig, Brunswick (with Ute Mahler) |
| | Back to Nature, Copenhagen Photofestival, (DK) |
| 2018 | Being a Child, Kunstmuseum Mühlheim an der Ruhr, Mühlheim an der Ruhr |
| | Fassade und Tarnung, Scope Galerie, Hannover |
| 2016 | Singapore International Photography Festival |
| 2014 | Second Glance / Small Silent City, Galerie im Kreuzgang, Kloster Obermarchtal, Germany |
| | Second Glance / Small Silent City, FHV Galerie Dornbirn, Dornbirn, Austria |
| 2013 | Zimmerpflanzen / Small Silent City, Kulturhaus Osterfeld e.V., Pforzheim |
| | Conifer Club / Second Glance, Alfred Ehrhardt Stiftung, Berlin |
| 2012 | Mermaids, Museum Kunst der Westküste, Alkersum/Föhr, Germany |
| 2009 | The room behind the wall | Dr. Dormagen Guffanti foundation, Cologne, Germany |
| 2008 | Sabine Schmidt Galerie, Cologne, Germany |
| 2007 | Sabine Schmidt Galerie, Cologne, Germany |
| 2005 | Museum Ludwig, Cologne; Germany |
| | Gallery 11, in the Gruner + Jahr publishing house, Hamburg, Germany |
| 2004 | Sabine Schmidt Galerie, Cologne, Germany |
| | Gallery Goethe-Institut Sofia, Bulgaria |
| 2000 | Gallery Bodo Niemann, Berlin, Germany |
| 1999 | Sabine Schmidt Galerie, Cologne, Germany |
| 1996 | Sabine Schmidt Galerie, Cologne, Germany |
| | Leckri Fotografie Group, Gent, Belgium |
| 1995 | Sabine Schmidt Galerie, Cologne, Germany |
| | |
| --- | --- |
| | GROUP EXHIBITIONS (selected) |
| 2023 | Photo festival Darmstadt Photography Days, Darmstadt |
| | The Silent Post Project, Textile Factory, Trier |
| | Draußen / Outside, Galerie Koschmieder, Berlin |
| | Retrospective, Helsinki Photo Festival, Helsinki (F) |
| 2022 | Connectedness — Experiments on a new relationship with nature : 8th International Marianne Brandt Award |
| | Krapp Kamera, Soho Photo Gallery, New York (USA) |
| 2021 | Menschenbilder (images of Humanity), Kunstmuseum Wolfsburg |
| 2019 | Anarchy, Helsinki, Photo Festival |
| | 100 Years GDL/DFA, Bear Girls, House of Photography, Deichtorhallen Hamburg |
| | Phantasie, Israel, Photo Festival |
| | Fotofestival Athen, Photobookshow |
| | Nida International Photography Symposium, Photobookshow, Litauen |
| 2016 | Mit anderen Augen – Das Portrait in der zeitgenössischen Fotografie | Kunstmuseum Bonn |
| | Mit anderen Augen – Das Portrait in der zeitgenössischen Fotografie | Kunsthalle Nürnberg und Kunsthaus Nürnberg |
| 2014 | Espy Photography Award 2014, Elysium Gallery, Swansea, UK |
| | elf uhr elf | Photographs about the Cologne Carnival, Laif Gallery, Cologne |
| 2012 | Paris Photo, Au Grand Palais, Paris |
| | views and windows | Galerie Sabine Knust, Munich |
| | Kolga Award 2012 »The best Photos of the year« Tbilisi, Georgia |
| | Mistigris - Contemporary German Photography, Tbilisi, Georgia |
| 2010 | Shifting Realities... Photography and its Realities | HALLE ZEHN / Cap Cologne e.V., Cologne |
| 2009 | Welde Art Award | Savings Bank Schwetzingen |
| | Revision | Sabine Schmidt Galerie, Cologne |
| 2008 | Mistigris- Contemporary German Photography | Gallery Lichtblick, Cologne |
| 2007 | Art Cologne |
| | University of Texas, Dallas |
| | Small Silent City | Sabine Schmidt Galerie, Cologne |
| | Quiet Afternoon | Gallery Claudia Delank, Cologne (with Anna Vogel) |
| 2006 | Der Palast der Drachenkönigin | Gallery Claudia Delank, Cologne |
| | Galerie Burg, LE-Musberg |
| | Märchen / Fairy Tales, DFA in Leinfelden |
| 2004 | Hotel Eden, Ludwigturm, Duisburg |
| | 44 in 10, Sabine Schmidt Galerie, Cologne |
| | KunstKöln, special show |
| 2003 | kunstKöln |
| | Museumsmühle Küppersbusch, Duisburg |
| | Art Cologne |
| | Paris Photo |
| 2002 | European award for women photographers, Florence, Italy |
| | Heimat/Homeland | Kunsthaus Dresden |
| | Municipal Museum Saarbrücken |
| | kunstKöln |
| | Reykjavik Museum of Photography |
| | Nassauischer Kunstverein Wiesbaden |
| 2001 | kunstKöln |
| | Art Cologne |
| 2000 | ARCO Madrid |
| | Art Cologne |
| 1998 | ARCO Madrid |
| | Kunsthalle Koblenz |
| | Kunsthalle Hamburg |
| | sunnyside | Gallery Crista Burger, Munich |
| | Art Cologne, Promotional Booth/Förderkoje |
| 1997 | Kunsthalle Nürnberg |
| | Museum for Applied Art, Gera |
| | Some Kind of Heaven | South London Gallery, London |
| | Someone Else with My Fingerprints | David Zwirner Gallery, New York |
| | John Hansard Gallery, Southampten |
| | The Garden of Eden | Noorderlicht Photofestival, Groningen |
| | Respekt, Glossy Munich |
| 1996 | Fotogalerie Kulturamt Friedrichshain, Berlin |
| | LEKRI (Galerijgroep Fotografie), Gent |
| | Gallery Christa Schübbe, Düsseldorf |
| | The Social View : Der soziale Blick | Art Frankfurt |
| | Artforum Berlin |
| | Stadt-an-Sichten | Otto-Nagel-Gallery, Berlin |
| 1995 | Museum for Applied Art, Gera |
| | Days of Photography Herten |
| | Art Multiple, Düsseldorf |
| 1994 | City & Region Trustee Savings Bank Pforzheim, Pforzheim |
| | Gallery Acud, Berlin |
| | Stadtkunst, Köln |
| 1993 | Museum of Photography, Helsinki, Finnland |
| 1992 | Museum of Art and Cultural History, Dortmund |
| | |
| --- | --- |
| | Teaching assignments |
| 2015 | Teaching assignment, Academy for Communication Design, Cologne, Germany |
| 2008–2009 | Teaching assignment, College of Higher Education Bielefeld, Germany |
| 2007 | Teaching assignment for Visual Communications | Merz Akademie, Design Academy Stuttgart, Germany |
| 2005 | Teaching assigment, College of Higher education Voralberg, Austria |
| 2002 | Art goes School | State Chancellery, Saarland, Germany |
| | |
| --- | --- |
| | Education |
| 1993 | Diploma with André Gelpke |
| 1990 | Academy of Fine Arts, Leipzig |
| 1987–1993 | Academic studies: Photographic Design | University of Applied Sciences and Arts, Dortmund, Germany |
| 1985–1987 | Academic studies: Communication Design | University of Applied Sciences, Wiesbaden, Germany |
| 1979–1982 | Apprenticeship as carpenter |
| | |
| --- | --- |
| | COLLECTIONS (SELECTED) |
| | Kunstmuseum Wolfsburg |
| | Collection FC Gundlach |
| | Kasper König Collection |
| | Sprengel Museum Hannover |
| | Kunstmuseum Mühlheim an der Ruhr |
| | Artothek Köln |
| | LBBW Landesbank Baden Württemberg |